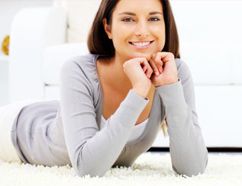 Does your carpet look fresh and clean at first sight? But do you really believe that it is? Even though you may vacuum on a daily basis, your carpet will never be as clean as if cleaned by a professional company.
A vacuum cleaner can only extract the upper layers of grime but tons of tiny insects, dust mites, germs and bacteria are hiding deep into the base and cannot be fully extracted. This is why leading carpet manufacturers advise having your carpets professionally cleaned at least once per every six months.
We know that you are given a number of cleaning companies in Finsbury to choose from but we also know that their achievements in this industry are not even close to ours. We have spent many years in this business and ever since our establishment we have never stopped improving our carpet cleaning services. To see what we are talking about, get in touch with us and we will give you all the information you need to know about us.
What does our carpet cleaning service include?
We move furniture and other unwanted objects that stands in our way.
We pre-treat any heavy stains, dirty marks and high-traffic areas.
We proper hoover the carpets to loose the dirt particles.
We make use of the hot water extraction method, also known as deep steaming, to extract grime and soil. It always gives amazing results.
Our cleaning procedures involve usage of environmentally friendly cleaning products and tools.
We operate advanced cleaning machines which extract up to 95 percent of the moisture.
We neutralise unpleasant odours.
We deodorise the already cleaned areas.
We can apply Scotchguard Carpet Protector upon request to prevent future staining.

* Carpet Minimum call out charge £48
"My carpets haven't looked this clean in a very long time. For the past few years I have been cleaning them on my own, and just now I realize how bad of a job I have been doing- from now on, I won't hesitate to call on your service and get my carpets completely renewed and refreshed. – Jessica"
"A truly amazing service! I had all my three carpets cleaned using your service and I couldn't have asked for better, more thorough end results. Your cleaning technicians were very friendly and professionally-mannered and I really enjoyed their stay. Moreover, the cleanings were an unquestionable success! – Phil"
We believe that to have your carpets professionally cleaned does not have to be a luxury which only the wealthy people can afford. With the prices of our company Shiny Carpet London, our customers have to pay for a song- so affordable our rates are. Booking our professional carpet cleaning services is a necessary investment which will actually prolong the life of your carpets up to several years. Aren't you interested in our offer yet?
Our carpet cleaning services are definitely worth booking
Many people decide to replace their old discoloured carpets with a set of new ones. But they do not know that this will cost them a lot whole more money than simply contacting our company. With us, the desired outcome is guaranteed. We have been around long enough to know which the most effective treatments are and how to apply them in order to breathe new life into your carpets.
We have invested in cutting-edge technology and machines which know no enemy. We make use of super powerful hot water extraction method which loosens all dirt particles and then by means of advanced vacuum machines, we extract all of the impurities, regardless of what origin. Plus, booking a professional carpet cleaning company will improve the indoor breathing environment. You don't want to put the health of your family and yours into danger, do you?
Frequently Asked Questions
When it would be safe to use my carpets again?
It really depends on various factors such as fabric type, cleaning method and humidity in the room. Sometimes it takes no more than several hours but often you might have to wait up to two whole days. To speed up the process, turn on your air conditioning or fan or at least open a window to turn the air around.
Generally, it is advisable to let your carpets dry completely before you thread on them or move the furniture back to its place. You want to reduce the traffic to a minimum to avoid contaminating your carpets again or leave indentation marks.
Why do I need professional carpet cleaning?
Your carpet doesn't just collect dry soil, stains and odors. It is the breeding ground of a whole variety of harmful microorganisms. To insure its presentable look and healthy condition, enlist the help of professional cleaners. For one thing they have the skills, knowledge and experience to face any carpet problem. Furthermore, professional cleaning providers use detergents and specialized equipment of superior quality to achieve incomparable results. Lastly, they offer a set of services for sterilization, disinfection, grooming and protection of your carpet. All of these factors secure the well-being of your decoration piece for much longer.
How often do I need to book professional carpet cleaning services?
You are recommended to have your carpet cleaned at least two times a year by a professional cleaning provider. Regular maintenance of your carpet is especially important in cases of asthma or allergies and when there are children or pets in the home. However, frequency vary depending on the individual case. If your carpet is placed in a room that you hardly ever use, then you don't need to put that much care. Otherwise, you might enlist the help of cleaning specialists as much as four to five times a year or even more if your carpet is in an accident prone environment.
Speaking of which, the products and cleaners our technicians use during the cleaning sessions are absolutely environmentally friendly, chemical-free and safe for your carpets themselves and for your family members. Do not worry about the equipment because it is included in the final sum of the cleaning package. We already told you how competitive our prices are, for more accurate calculation, contact our call centre representatives for a no-obligation quotation.
Place your trust in our company and entrust your pieces to our gentle hands. We have been the champions in Finsbury for plenty of years and we are believed to be second to none. Do not have second thoughts to choose us because we know that your carpets deserve to be professionally treated.
Choose us because:
our rates are extremely affordable and will not go harsh on your wallet
all of the products we make use of are nature-responsible and yet powerful against all types of impurities and stains
the cleaning gear is included in the total sum
we collaborate with true professionals who have been properly trained in this field
we can be found in the entire Finsbury
we are available all week round, plus weekends, plus bank holidays
we can provide a lot of positive reviews from our customers in N4
our carpet cleaning services will make your home even cosier