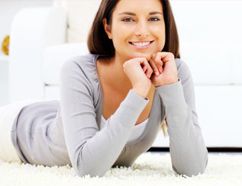 Perhaps you have a pet and you find it difficult to deal with all of the tiny hairs that are stuck in your carpet. Maybe you have expensive carpets and you want to preserve them, and you are afraid of damaging their condition if you clean them on your own. Or maybe you don't have the right instruments to properly clean it. Doesn't matter, because we are here to make your life simpler and deal with the cleaning tasks instead of you!
The carpet cleaning service that Shiny Carpets London offers is one of the best services in our catalogue. It's easy, it's fast and you get to see the long-lasting results! We operate in London, including the area of Bethnal Green. We can easily find your address, the only thing left is your call!
Our carpet cleaning service is available to you on the weekends, too. We want to help you, therefore, you can book us whenever you have the time. The booking is fast and easy! Just with one call or one e-mail you can tell us when you want us and where you want us!
What does our carpet cleaning service include?
We move furniture and other unwanted objects that stands in our way.
We pre-treat any heavy stains, dirty marks and high-traffic areas.
We proper hoover the carpets to loose the dirt particles.
We make use of the hot water extraction method, also known as deep steaming, to extract grime and soil. It always gives amazing results.
Our cleaning procedures involve usage of environmentally friendly cleaning products and tools.
We operate advanced cleaning machines which extract up to 95 percent of the moisture.
We neutralise unpleasant odours.
We deodorise the already cleaned areas.
We can apply Scotchguard Carpet Protector upon request to prevent future staining.

* Carpet Minimum call out charge £48
"I would not hesitate to recommend your carpet cleaning service to all my friends who are looking for a professional and reliable cleaning contractor. With these wonderful rates and satisfying outcome, I am sure you attract more and more customers. I can tell out of personal experience, you are the best.- Levine"
"I am so thankful for the carpet cleaning session your cleaners delivered to me yesterday. Thanks to them, my carpets look amazing again! I am definitely booking you again in future. If my carpets could talk, they would be thankful as well. Keep up with the good work.- Brooke"
After you set an appointment for the carpet cleaning service, our professional cleaners will show on your doorstep right on time. They have the knowledge to remove the stains from your carpet and use steam cleaning and dry cleaning to thoroughly clean it.
Our methods can extract up to 95% of the moisture. Our techniques don't damage the fabrics of your carpets and have only positive effect on them. The colors will be brighter than before and there will be no sign of our products, because our technicians deodorize the cleaned areas. If your carpets are expensive, there is no better service to trust, than ours!
We use very modern machines, which are the perfect means for the purpose of cleaning your carpet. Our cleaning products are nature-friendly and have no sign of chemicals or toxins in their content. We can take the best care of your carpet if you just let us!
Frequently Asked Questions
When it would be safe to use my carpets again?
It really depends on various factors such as fabric type, cleaning method and humidity in the room. Sometimes it takes no more than several hours but often you might have to wait up to two whole days. To speed up the process, turn on your air conditioning or fan or at least open a window to turn the air around.
Generally, it is advisable to let your carpets dry completely before you thread on them or move the furniture back to its place. You want to reduce the traffic to a minimum to avoid contaminating your carpets again or leave indentation marks.
Why do I need professional carpet cleaning?
Your carpet doesn't just collect dry soil, stains and odors. It is the breeding ground of a whole variety of harmful microorganisms. To insure its presentable look and healthy condition, enlist the help of professional cleaners. For one thing they have the skills, knowledge and experience to face any carpet problem. Furthermore, professional cleaning providers use detergents and specialized equipment of superior quality to achieve incomparable results. Lastly, they offer a set of services for sterilization, disinfection, grooming and protection of your carpet. All of these factors secure the well-being of your decoration piece for much longer.
How often do I need to book professional carpet cleaning services?
You are recommended to have your carpet cleaned at least two times a year by a professional cleaning provider. Regular maintenance of your carpet is especially important in cases of asthma or allergies and when there are children or pets in the home. However, frequency vary depending on the individual case. If your carpet is placed in a room that you hardly ever use, then you don't need to put that much care. Otherwise, you might enlist the help of cleaning specialists as much as four to five times a year or even more if your carpet is in an accident prone environment.
The price of the carpet cleaning service that we offer is low and you will not find a better service in Bethnal Green, even on lower prices!
Our staff is prepared to clean anything and we want to make the most of our job. We have years of experience in the cleaning area and we learned that not only the customer is always right, but we believe that and we put every customer on the first place.
We want to provide to you the most satisfying results and maybe to win you as one of our regular clients! In our cleaning history there has not been problems, not only because of the results we provide, but also, because we are careful an attentive in everything we do!
The bottom line is that we possess everything needed to take the proper care for your carpets and make them last longer. We are available to you, when you have free time in your schedule. We use the best tools and products for the highest quality of the carpet cleaning service.
Our experienced cleaners are familiar with Bethnal Green and will find your address very easy. They will give more than a hundred per cent to clean perfectly your carpet and there will be no unpleasant smells after that. You can book us easily and quickly and you will not even notice when we've done with the cleaning at your home!
You make the most easy and safe choice if you contact us. If you trust us, you can only win! Shiny Carpets London exists only to be helpful to you! Let us make you one of our happy and satisfied customers by letting us deliver the carpet cleaning service at your home! We deserve our place in the cleaning chain in Bethnal Green and if you give us the chance, we will definitely prove this to you!