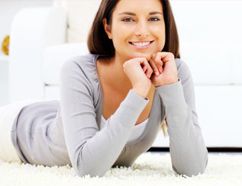 Your carpet likes storing dirt. In fact, it is the perfect place for dust mites and bacteria because of the soft fibres that block filth inside the fabric. What is more, the constant use of carpets and the high traffic on them contribute to the dirt and dust collecting on them. The longer dirt accumulates on your carpet, the deeper it gets stuck there. This will not only make your carpets appear dirty, it may also cause bad odour, health issues (such as asthma, skin irritation, allergies and many others) and even destroy the surface of your carpet.
It is time that things changed. You can kill all bacteria, eliminate bad odours and freshen your carpet very fast and efficiently. Your carpet can become clean again without you being involved in the cleaning process at all. How is it possible? If you choose our company, we can make this happen.
Oils, stains, dust mites, dead skin cells – this is just a part of all the dirt that your carpets have been storing all along that your eyes cannot see. We understand that it is not an easy task to clean a carpet on your own, especially if it has not been cleaned in a while. In order to perform this with perfect results, you will need a lot of time, effort, professional tools and skills. Nowadays most people do not have the time to take care of their carpets. We would like to spare you all this time and effort, as well as the money you would otherwise spend on expensive detergents and carpet shampoos and offer you our professional carpet cleaning service.

* Carpet Minimum call out charge £48
My neighbour told me about your carpet cleaning options and last week I decided to give them a try. I couldn't be happier with the results. You are excellent.
Smith
I wanted so say that I loved your carpet cleaning and I plan to book it every single time I need such service.
Madison
All our carpet cleaning technicians are professionals with a lot of experience in that particular service. They are able to treat all kinds of fabrics as well as a wide range of stains. They are equipped with professional machines and detergents and will reach perfect results.
Before we get to the method that we use for cleaning your carpet, we would like to mention how important it is to trust the right people for the job. Cleaning carpets is not only a task that requires a lot of effort but it is also one that requires a lot of knowledge and precision. Carpets are made of different materials. Now, it is of crucial importance to know what kind of carpet materials you are working with, in order to choose the best approach. We work with a wide range of professional cleaning solutions, used to treat different fabrics and stains. Using the wrong detergent on a certain type of carpet may not only not achieve any results but also cause permanent damage to the surface of the carpet. We strongly suggest that you do not attempt cleaning your carpets on your own. Give us a call and let us take care of that for you. We work from Monday to Sunday in Brixton, Stockwell and Wandsworth.
Here is how our carpet cleaning procedure goes:
We use a steam cleaning technique to clean carpets and upholstery. It is extremely efficient against dirt and stains and leaves your carpets fresh and disinfected. The steam cleaning machine extracts hot water into steam ( up to 140 degrees) that dissolves dirt and kills all bacteria.
When our technicians arrive at your house, multiple tests will be done to determine the type of materials your carpet is made of.
The whole surface of the carpet will be vacuumed thoroughly. This will remove all loose dirt and dust. It will also fluff the carpet fibres and ensure a deeper clean.
After that, the solution that fits the fabric and stains best will be applied on highly polluted and heavily stained areas
The steam cleaner will be used on the whole surface of the carpet, dissolving all stains and killing all bacteria.
When finished, your carpets will be deodorised and most of the moisture will be extracted from them.
The biggest advantage of our service in Soho and Hanwell is that we perform on-site cleaning and thus save you the effort of transporting your carpet to another place and then bringing it back home. We use very small amounts of water, later extracted from the fibres. In the end of the process your carpet will be slightly wet, not soaking. This will allow it to dry much faster and you will be able to walk on it sooner than you think.
We are able to cover all kinds of carpet fabrics : Cotton, Silk, Coir, Viscose, Wool, Nylon, Polypropylene, Synthetic etc.
We would like to share some tips and tricks with you. Those will help you maintain the cleanliness and good looks of your carpets.
Vacuum your carpets at least once a week. Doing that will decrease the amount of dirt and dust that gather in your carpet fibres. It will make them appear cleaner and even though it will not fully rid you of bacteria, hairs and small particles nor disinfect your carpets, doing this on a regular basis will improve the condition of your carpets and prolong their life.
Deep clean your carpets regularly. Depending on the number of people in the household, as well as the traffic that the carpets undergo, you might want to deep clean your carpet each 4-9 months. This will ensure proper disinfection and cleanliness for your house. The hygiene levels will improve and you can rest assured your whole family is safe.
Do not attempt any cleaning on your own. As we mentioned earlier, choosing the wrong method or detergent can cause serious damage to your carpet. Leave this to the professionals. Our technicians are going to offer you a special solution, suitable for the type of carpet that you have. You can use this solution whenever a stain occurs. It may not remove it completely but will prevent it from soaking in deeper and becoming permanent.
Do not hesitate to give us a call and offer a carpet cleaning for your home or office. We will not disappoint. We also offer:
Customer service around the clock
Flexible schedules
Honest quotations with no hidden charges
Professional technicians with a lot of experience
Professional, eco-friendly detergents
Equipment and products included in the price
Full insurance on all services and employees
All you are supposed to do in order to book a service with us is to contact our call centre representatives. They will be glad to provide you with additional information about the essence of the cleaning service chosen and the numerous advantages you get from booking with us. They are able to answer any questions of yours, as well as give you recommendations about the service that will suit your needs best. Whenever you are hesitant you can talk to them, share any information and details about your particular situation and expect a professional attitude. They are able to assist you with the booking process and pick the best team for the job. You can rely on customer support round the clock so don't hesitate and ensure a dirt free environment at your home or office as soon as possible. It has never been easier and more accessible. Get in touch with us now.
Call our customer support team and receive a free quote. Call us at: 020 3745 5184