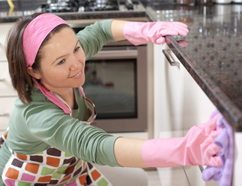 Our cleaning company has proven its seriousness towards the providing of a variety of cleaning services in the city of London. Whether after a huge party or simply for an extensive spring cleaning, we will perform every customer's needs without forgetting important details that turn out to be decisive for cleaning the premises.
To manage with all that, we offer you our deep cleaning service that is suitable for those cases. Deep cleaning has been known to be appropriate in more severe cases where the usual cleaning is no longer effective. We guarantee to be the best in performing that service, as we have years of experience in the cleaning field. We always win the battle with dirt and stains because they are not things that will frighten us in any way.
Deep Cleaning London
Hourly Based Services Price

Deep cleaning is a more detailed, thorough type of cleaning. It is required once in a while, in order to maintain our homes in good condition. The regular cleaning that we do weekly or even daily might be enough for the decent clean looks of our homes but is not nearly enough to rid us of deep dirt and grime that gathers in all places we usually overlook when cleaning regularly. Bathrooms and kitchens are the areas of the house that are usually in need of deeper cleaning. The conditions in both are perfect for bacteria and microbes and when the more thorough cleaning of the house is overlooked, those start to build up causing health issues, bad odours and overall unhygienic conditions.
Never before had it been easier to deliver yourself such thorough and unique deep cleaning. It is ensured thanks to the trained and qualified team of cleaners who are equipped with every instrument, machine or cleaning product that is needed for performing the procedures included in deep cleaning service. We rely on eco-friendly detergents, because the safety of our customers is a priority of ours. Unlike many companies, we prefer to make our clients feel really comfortable and secure during the deep cleaning procedure. Your health won't be disturbed and you won't be exposed to unpleasant odours caused by the cleaning products.
What We Cover
As we mentioned above, bathrooms and kitchens are the main focus of the deep cleaning service. However, all areas of your house will be deeply cleaned. We aim to cover your whole house, getting rid of all dirt and dust, as well as disinfecting all places that are regularly touched and require so. Here is a list of the places covered in the Deep cleaning service. Do not hesitate to talk to your booking agent about removing or adding any tasks on the list.
Kitchen
Being an essential part of the household, the kitchen is used at all times. We store and prepare our food there so it is of crucial importance that the whole kitchen space, especially the cooking area, is cleaned thoroughly and left spotless and disinfected. All the grease that accumulates around your kitchen, along with the warm conditions and all the food, can be prerequisites for all kinds of bacteria and unsanitary conditions to occur. Let us take care of that.
Stove top – scrubbed, degreased and disinfected
Sink and faucet – washed clean
Countertop – sprayed with degreaser, well washed and sterilized
Oven, fridge and other kitchen appliances – cleaned inside and out
Shelves and other surfaces – dusted and wiped
Cupboards – organized and cleaned inside and out
Mould and mildew – removed and treated with special detergent
Floor – vacuumed and mopped
Table and chairs – cleaned and sterilized
Rubbish – collected and disposed of
Bathroom
Similar to the kitchen, the bathroom is a warm, moist place, perfect for mould growth, bacteria and microbe occurrence and unsanitary conditions. What is more, when the bathroom cleaning is overlooked for some time, limescale starts building up and the more it is left, the harder it is to clean after. Allow us to rid you of all of the above, make your bathroom a shiny, fresh smelling and disinfected place.
Toilet and seat – scrubbed, descaled and sanitized
Sink and taps – descaled, cleaned and disinfected
Shower, shower head, hose and taps – descaled, washed and sanitized
Wash basin/bathtub – washed and sanitized
Shower cabin – fully washed and disinfected
Tiled walls and floors – scrubbed, polished and disinfected
Mirrors and glass surfaces -washed and polished
All shelves and tops – dusted and wiped
Cupboards – tidied and cleaned inside and out
Floors – vacuumed and mopped
Mould and mildew – removed and treated with a special detergent
Rubbish – collected and disposed of
Living Area and Bedroom
Bedrooms and living rooms are not to be overlooked. We spend most of our time in those. Whether it is that we sleep there or simply rest with friends, those areas get dirty as easily as the rest of the house. Remote controls, light switches and mattresses get extremely dirty in a short period of time and we are sure there are many places that you must clean but yet forget to.
Carpeted floors and upholstery – vacuumed, including under and behind furniture and upholstery cushions*
High surfaces – dusted and wiped
Wooden surfaces – cleaned and polished with special wood product
Mirrors and framed pictures – dusted and wiped
Windows – washed on the inside
Cobwebs – removed
All home appliances – dusted and wiped
Cupboards and shelves – organized and cleaned
Remote controls, light switched and door knobs and handles – disinfected
Hard floors – vacuumed and cleaned
*Deep clean steaming of carpets and upholstery can be performed when needed
Deep Cleaners
Our fabulous working time will impress even the most prejudiced customers. We work seven days per week, as we want to satisfy all your needs and preferences. We absolutely understand that you also may be busy with other important activities and for that reason, we have organised the things in a way that would be most suitable for you. Call us and book this service at a time, most convenient for you. Our company has worked hard to deserve its top place on the London cleaning market and we make efforts to improve our work every single day.
What we have for our revered customers is the following:
deep cleaning from top to bottom
working hours during the week and at the weekends
qualified and trained team of cleaners
eco friendly equipment and detergents
competitive offers that are second to none
honest evaluation of the job with no hidden costs
For the most effective deep cleaning we have additional packages and tempting offers for our new customers. You can choose among several options and you can consult with our friendly team who will give you useful advice, concerning that question. We will perform the deep cleaning service according to your taste and according to the specific needs of the home or office premises. If you want to inform yourself with more details we are encouraging you to benefit from the customer support centres that also work seven days a week. Choose us and forget once and for all about your cleaning problems, thanks to a perfectly provided deep cleaning.
Call our customer support team and receive a free quote. Call us at: 020 3745 5184