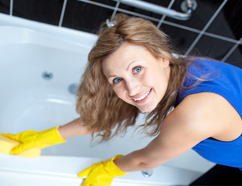 Have you ever struggled with all the tasks and duties you have to perform in the house? Most of the people have found it difficult to do the housekeeping at least once in their lives. Did you know that when you are at home you waste nearly 60% of the time doing the chores, the rest of the time being spent on the children, cooking and other duties. Which leaves almost no time for rest.
This is sad and you need to do something about it. We suggest you hire our professional domestic cleaning services to gain back that 60% of your time and do something really nice with it.
Domestic Cleaners London
Hourly Based Services Price

We are positioned in London, UK where we are among the leaders in the cleaning business. Our company name stands for reliability and trustworthiness and since customers know this they choose to come to us. We have a few teams of maids who are completely qualified and insured, waiting to receive instructions and start touring the city. Our system allows regular visits on a daily weekly and fortnightly basis or a one off clean of the house if this is what you want.
Remember, it depends on you. We always put our client's wishes first and try to conform to their requirements. Our cleaning plans involve every room of a property but our maids will cover only the areas you specify. We can keep your place clean and germ-free and save you the time cleaning it yourself. This will leave you more free time, which you can use to enjoy yourself or just share special moments with your loved ones.
Our policy is very strict and we make sure we leave every customer fully satisfied with the service. We take as much time as we need to clean a place and we never perform a rushed cleaning. Only by paying attention to every single detail can we ensure 100% clean homes and the best results. So if you need a professional cleaning provider to handle your house, do not hesitate to turn to us. We will get back to you as soon as we can.