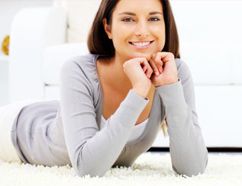 Hello, carpet owner! How are you today? Would you like to hear who we are and what we do? We think it would be of interest for you to hear about our campaign for the prevention of cruelty against carpets. It's part of our mission to provide carper cleaning services to the residents of Greenwich.
How do you treat your carpet? Would you let us in so we can ask it ourselves? We'd love to listen to every last detail of its life story. What do you think it would share with us? Do you have anything to hide yourself?!
Let us interview you! We'd like to ask you a set of questions just for research purposes. Our company is compiling data to establish the condition of carpets in the area of Greenwich in order to improve the already existing cleaning methods known in the industry. Shiny Carpets London is committed to providing the best possible treatment for every type of carpet fiber and its relevant problems.
What does our carpet cleaning service include?
We move furniture and other unwanted objects that stands in our way.
We pre-treat any heavy stains, dirty marks and high-traffic areas.
We proper hoover the carpets to loose the dirt particles.
We make use of the hot water extraction method, also known as deep steaming, to extract grime and soil. It always gives amazing results.
Our cleaning procedures involve usage of environmentally friendly cleaning products and tools.
We operate advanced cleaning machines which extract up to 95 percent of the moisture.
We neutralise unpleasant odours.
We deodorise the already cleaned areas.
We can apply Scotchguard Carpet Protector upon request to prevent future staining.

* Carpet Minimum call out charge £48
"I have always had troubles removing the pet hair and grime off the upholstery and carpets at home. Not anymore! Ever since I found out about your service and what a good, diligent job you do, I have been relying on you completely to clean my furniture and carpets. Needless to say, they look amazing! – Jorja"
"I went through a lot of trouble trying to clean off the stains on the carpets at home. Finally, a friend of mine recommended your service to me and I decided to give it a try- and I am so very glad that I did! Your cleaning technicians did an amazing job and managed to clean the carpets spotless! It has been a while since I have seen them like this. – Wendy"
Why don't we answer a few of the questions you probably have yourself first!
First Question: What can you do for my carpet problems?
Long story short, we can solve them! How does a ground breaking cleaning system sound to you?! We told you we aim for the stars! We constantly put conscious efforts to perfects our skill set to able be able to overcome any carpet problem in existence.
Every cleaning session begins with inspection. We'll take stock of the damage to pick the proper techniques and tools. Since our professionals work with cleaning solutions and specialized machinery of superior quality, you can expect excellency.
If anyone can remove stains and odors, smooth high-traffic areas, handle indentations and kill bacteria, it is our staff of cleaners. You'll receive back a well-groomed carpet that is completely free of dirt, smells nice and is protected with safeguard spray to prolong its life. Does it sound good?
Second Question: What can I expect of your cleaners?
Proficiency! Nothing less! We swear by their impressive skills, their formidable amount of knowledge and their heart-warming commitment to the work. You can't leave your carpet in better hands! Those are trained cleaners with many years of experience in the field, which makes them every bit qualified for the job. They're vested in the different carpet types and know the right cleaning method and the proper products and equipment to achieve excellent results with each one.
Third Question: How much would you charge me?
Generally, it depends on the fiber type and the condition of your carpet. Moreover, the price package is related to the cleaning plan of your choice. We have varying affordable rates for an extensive range of services. Rely on our representative to advice you on the most suitable cleaning plan in accordance with your budget limits.
Fourth Question: When can I take advantage of your services?
Every single day of the week! Contact us by phone or fill the online request form for our pick up and delivery service. In both cases you'll receive quick response and placement. Our representatives in Greenwich would be happy to talk about anything of concern for you.
They'll give you detailed information about each aspect of our services so you can be sure you make the right choice for a package of services that would suit your carpet needs. We'll send a crew to your place of residency at a time that is convenient for your schedule.
Frequently Asked Questions
When it would be safe to use my carpets again?
It really depends on various factors such as fabric type, cleaning method and humidity in the room. Sometimes it takes no more than several hours but often you might have to wait up to two whole days. To speed up the process, turn on your air conditioning or fan or at least open a window to turn the air around.
Generally, it is advisable to let your carpets dry completely before you thread on them or move the furniture back to its place. You want to reduce the traffic to a minimum to avoid contaminating your carpets again or leave indentation marks.
Why do I need professional carpet cleaning?
Your carpet doesn't just collect dry soil, stains and odors. It is the breeding ground of a whole variety of harmful microorganisms. To insure its presentable look and healthy condition, enlist the help of professional cleaners. For one thing they have the skills, knowledge and experience to face any carpet problem. Furthermore, professional cleaning providers use detergents and specialized equipment of superior quality to achieve incomparable results. Lastly, they offer a set of services for sterilization, disinfection, grooming and protection of your carpet. All of these factors secure the well-being of your decoration piece for much longer.
How often do I need to book professional carpet cleaning services?
You are recommended to have your carpet cleaned at least two times a year by a professional cleaning provider. Regular maintenance of your carpet is especially important in cases of asthma or allergies and when there are children or pets in the home. However, frequency vary depending on the individual case. If your carpet is placed in a room that you hardly ever use, then you don't need to put that much care. Otherwise, you might enlist the help of cleaning specialists as much as four to five times a year or even more if your carpet is in an accident prone environment.
Our cleaners would be very careful when they help you move the furniture so they can roll up and load your carpet on their car and take it for treatment. We promise to do everything within our powers to avoid any accidental damage to your property or your carpet in the process. The whole procedure will be over before you know it and you'll be free to tend to your other business in no time.
Keep them coming! Ask whatever you want! It's actually nice to be on the
other side of the interviewer-interviewee relationship. We'd be pleasure for us to help you with whatever we can!