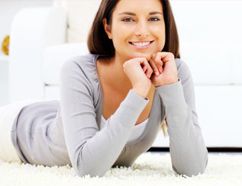 Shiny Carpets London is an expert in providing carpet cleaning services to people from Highgate. Most people think that regular vacuuming the carpet in their homes or working place is simply enough but they could not be more wrong.
These people do not know but simple vacuum cleaners can extract only a small amount of the accumulated dust and grime. There are still tons of harmful germs, tiny insects, dust mites and soil trapped underneath the carpets which would trigger allergic reactions or other dust-related illnesses.
Our carpet experts are provided with state-of-the-art cleaning machines to deliver efficient procedures. Our experienced representatives specialise in a spotless clean method based on the leading carpet manufacturers' recommendations. The so-called hot water extraction method is suitable for all types of carpets. Our cutting-edge technologies are powerful enough to fully extract all detrimental impurities and leftovers that have been embedded in the fibres.
What does our carpet cleaning service include?
We move furniture and other unwanted objects that stands in our way.
We pre-treat any heavy stains, dirty marks and high-traffic areas.
We proper hoover the carpets to loose the dirt particles.
We make use of the hot water extraction method, also known as deep steaming, to extract grime and soil. It always gives amazing results.
Our cleaning procedures involve usage of environmentally friendly cleaning products and tools.
We operate advanced cleaning machines which extract up to 95 percent of the moisture.
We neutralise unpleasant odours.
We deodorise the already cleaned areas.
We can apply Scotchguard Carpet Protector upon request to prevent future staining.

* Carpet Minimum call out charge £48
"The carpet in my living room looked so nasty. It had build up dirt and impossible to remove stains. I tried to clean it myself, unfortunately without success. Then, I decided to call your company for the carpet cleaning service, and I assure you that you are the absolute best in the business! The stains were gone, the dirt was forgotten and the colors looked brighter than ever! I will definitely call you again!" – Elena
"My carpets looked very neglected and discolored, when my mom told me to call your company and book a carpet cleaning service. Your professionals came on time, they were very polite and attentive in the cleaning procedure. I was very surprised to see the real colors of my carpets and there were no unpleasant odors after you cleaned them! Thank you for the help!" – Jenna
More about our company Shiny Carpets London
Our company was established several years ago. The business idea came with the passion to found a cleaning company that provided fantastic cleaning services and also suited our customers' requirements. Today, we have grown to become one of the leading cleaning companies in Highgate and our achievements are deeply appreciated.
We take pride in our large clientèle and we aim at attracting the attention of more and more potential customers. If you still have not tried our phenomenal carpet cleaning services, it is high time for you to give us a chance and assure you that we will make you happy with the service provided.
Frequently Asked Questions
When it would be safe to use my carpets again?
It really depends on various factors such as fabric type, cleaning method and humidity in the room. Sometimes it takes no more than several hours but often you might have to wait up to two whole days. To speed up the process, turn on your air conditioning or fan or at least open a window to turn the air around.
Generally, it is advisable to let your carpets dry completely before you thread on them or move the furniture back to its place. You want to reduce the traffic to a minimum to avoid contaminating your carpets again or leave indentation marks.
Why do I need professional carpet cleaning?
Your carpet doesn't just collect dry soil, stains and odors. It is the breeding ground of a whole variety of harmful microorganisms. To insure its presentable look and healthy condition, enlist the help of professional cleaners. For one thing they have the skills, knowledge and experience to face any carpet problem. Furthermore, professional cleaning providers use detergents and specialized equipment of superior quality to achieve incomparable results. Lastly, they offer a set of services for sterilization, disinfection, grooming and protection of your carpet. All of these factors secure the well-being of your decoration piece for much longer.
How often do I need to book professional carpet cleaning services?
You are recommended to have your carpet cleaned at least two times a year by a professional cleaning provider. Regular maintenance of your carpet is especially important in cases of asthma or allergies and when there are children or pets in the home. However, frequency vary depending on the individual case. If your carpet is placed in a room that you hardly ever use, then you don't need to put that much care. Otherwise, you might enlist the help of cleaning specialists as much as four to five times a year or even more if your carpet is in an accident prone environment.
To put your mind at ease, each and every of our carpet technicians has many years of experience in this field and know how to take the best care of your carpets. Your carpets are in good hands with us, do not even doubt it.
Highgate homeowners who are proud of their cosy homes not only want their carpets to look clean, they want them to be perfectly sanitised and disinfected. Our company offers the most effective carpet cleaning services available in Highgate and willing to deliver you a session which will leave your carpets not just cleaned but hygienically cleaned. We have confidence in our skills and our top of the range cleaning equipment.
With us, you will be able to get to enjoy your perfectly cleaned carpets to the fullest. With us, your carpets will not only look clean, they will BE clean.
See what makes us favourite choice for hundreds of customers:
fully insured and bonded
environmentally friendly, chemical-free, biodegradable cleaning detergents
top of the range carpet cleaning equipment
trained and experienced carpet technicians
affordable rates
Experience is important when it comes to carpet care
We have trained our technicians in techniques which can deal with the most stubborn of stains. We assure you that the products we utilise are safe for you, your children and furry members of the family. Before we undertake any task, our expert cleaners will inspect the condition of your carpet, identify the visible stains and provide you with evaluation of expected results. We place great importance on honesty so we will be absolutely honest with you.
To book our carpet cleaning service, all you need to do is to contact us by phone and request an appointment. We are open seven days of the week and we do not overcharge for weekends appointments. The sooner you call us, the sooner you will be able to enjoy the wonderful look of your carpets. Hurry up and dial our number.