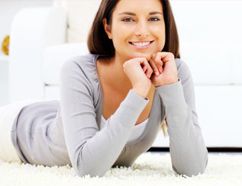 Do you need space from carpet cleaning?! Why don't you and your carpet spend some time apart and see how that would affect your relationship?! We know you want to treat it well but sometimes that means you delegating the work to somebody else. It doesn't mean you don't care! It just makes you all the more respectful of its needs!
Let us remind you about the three C's of life! You must make a choice to take a chance or your life will never change! Only that with us all bets are on! Choose Shiny Carpets London and you take a measured risk for the benefit of the future happiness of you and your carpet! It would be like couple's therapy! We promise you that at the end you'll rediscover the love for one another!
What does our carpet cleaning service include?
We move furniture and other unwanted objects that stands in our way.
We pre-treat any heavy stains, dirty marks and high-traffic areas.
We proper hoover the carpets to loose the dirt particles.
We make use of the hot water extraction method, also known as deep steaming, to extract grime and soil. It always gives amazing results.
Our cleaning procedures involve usage of environmentally friendly cleaning products and tools.
We operate advanced cleaning machines which extract up to 95 percent of the moisture.
We neutralise unpleasant odours.
We deodorise the already cleaned areas.
We can apply Scotchguard Carpet Protector upon request to prevent future staining.

* Carpet Minimum call out charge £48
"Your service was very helpful! I haven't seen my carpets this cleaned since I first bought them a few years ago. Your cleaners made the impossible seem possible and I am entirely grateful for your assistance. Should I come across any problems cleaning my carpets again I will definitely give you a call. – Rudy"
"My carpets haven't look this clean in a very long time! I am very grateful for your employees' hardworking and diligence. They behaved very professionally and made my carpets softer and much cleaner than they used to be. I won't hesitate to call on your service again in the future. – Jared"
Now let's put words into actions!
Make a choice
When do you want our services?
Our company is at the services of our fellow residents in Walthamstow seven days a week. A crew can come in an instant at a time and place of your convenience to help you with moving the furniture and extract your carpet from hard to reach areas. We'll roll it up on our van and take it for the equivalent of a spa day in our cleaning station.
Frequently Asked Questions
When it would be safe to use my carpets again?
It really depends on various factors such as fabric type, cleaning method and humidity in the room. Sometimes it takes no more than several hours but often you might have to wait up to two whole days. To speed up the process, turn on your air conditioning or fan or at least open a window to turn the air around.
Generally, it is advisable to let your carpets dry completely before you thread on them or move the furniture back to its place. You want to reduce the traffic to a minimum to avoid contaminating your carpets again or leave indentation marks.
Why do I need professional carpet cleaning?
Your carpet doesn't just collect dry soil, stains and odors. It is the breeding ground of a whole variety of harmful microorganisms. To insure its presentable look and healthy condition, enlist the help of professional cleaners. For one thing they have the skills, knowledge and experience to face any carpet problem. Furthermore, professional cleaning providers use detergents and specialized equipment of superior quality to achieve incomparable results. Lastly, they offer a set of services for sterilization, disinfection, grooming and protection of your carpet. All of these factors secure the well-being of your decoration piece for much longer.
How often do I need to book professional carpet cleaning services?
You are recommended to have your carpet cleaned at least two times a year by a professional cleaning provider. Regular maintenance of your carpet is especially important in cases of asthma or allergies and when there are children or pets in the home. However, frequency vary depending on the individual case. If your carpet is placed in a room that you hardly ever use, then you don't need to put that much care. Otherwise, you might enlist the help of cleaning specialists as much as four to five times a year or even more if your carpet is in an accident prone environment.
What are your carpet problems?
Is it ground-in dirt? Stubborn stains? High-traffic areas? Allergens? Odors? Whatever it is, know that we're more tenacious than any carpet problem you can encounter! We won't promise you the moon but we do vow to put great efforts into securing the well-being of your carpet!
– Pre-Inspection – We'll start with this service to establish its overall conditions and make a decision on the right measures that need to be taken according to the damage present.
– Pre-treatment – Then our cleaners will pre-treat any stains that need additional attention for better end results.
– Treatment – We'll vacuum and deep clean your carpet to sanitize and disinfect it properly so no dirty patch or allergen is left behind.
– Post-treatment – At the end we can deodorize your carpet and cover it with a coating of protective spray that would guard it from future damage and prolong its life.
Contact our office representatives to learn about all the services you can take advantage of. They'd be glad to answer in detail all your questions and advice you on a cleaning plan that would be most suitable for your budget.
How can we help?
In numerous ways! For one thing, we have the most competent cleaners you can find in Walthamstow! We know that for a fact actually! We know it from our raving reviews and the fact that our company has been chosen as the number one cleaning provider in the area for several consecutive years.
Our specialists have extensive knowledge in fabric types and training that impressed us too! The know all the right cleaning methods for every carpet on the market and all the right products for every problem in existence.
Let's not forget the specialized equipment they use to thoroughly sanitize and groom your carpet so it can be ready to be put on display as part of an exhibition even! Indeed, we'll use everything in our arsenal to deliver you maximum satisfaction with the results!
Take a chance
What we offer will turn everything you know about cleaning on its head! You will receive your carpet in a better condition than anytime before that! We have enough positive feedback from customers in Walthamstow to be able to guarantee you astonishing results thanks to our patented cleaning system! Should by any chance you find yourself unsatisfied with our results, make it known so we can talk about how to reimburse you for your money!
Think about it! Happiness is just one phone call away! Make a request for our services so you can finally say with relief…
… And now my life is changed!