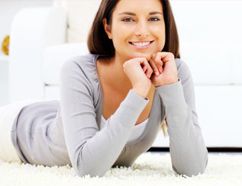 Shiny Carpets is a professional cleaning company, which offers highly effective and accessible carpet cleaning in Paddington W2. Call us now and book our cleaning service.
Stains and dirt are the greatest enemies of your rug. In order to remove them, you will have to act in time, otherwise the stains will settle deep inside the fabrics of your carpet. If you have such problems, the only solution you can find is the use of professional help. Our agency delivers professional carpet cleaning in Paddington W2. Numerous households take advantage of our flawless services in order to remove all the stubborn dirt from their carpets. You can do it too, all you have to do is to make a carpet cleaning appointment with us.


Carpet Price

Prices

Livingroom Carpet

from £25
* Carpet Minimum call out charge £48
Your employees are incredibly talented and educated to achieve the best results. The carpets at home are perfect thanks to you.
Janette
No matter how dirty my carpet is, you always manage to clean it perfectly. Your great experts and your professional detergents make the work look like a piece of cake.
Amanda
Professional Carpet Cleaning
We are real professionals because we have gained a lot of experience throughout our carpet cleaning practice. Our cleaners are trained to execute the most qualitative procedures that can guarantee you flawless results. The service execution begins with thorough vacuuming of the carpet and removal of larger particles. Our personnel also moves furniture and other object to achieve better access to areas which are hard to reach. Old stains and spills are treated with special detergents that won't damage the fabrics of your rug. Water, dry or steam cleaning, by your choice, is performed on the next stage of the procedure. Last but not least we execute perfuming with fragrance also by your choice.
If you book a service with us, we can guarantee you professional procedures such as:
thorough vacuuming
furniture removing
stains and spills treatment
special detergents
water, dry or steam cleaning – by choice
carpet perfuming – fragrance by choice
Professionalism in every aspect of our work, that is something which distinguishes us from all the rest. Our skilful carpet cleaners have been trained to deliver excellent results with respect to the clients' property. We are able to deal with complicated situations in times because we know that completing tasks in time is a sign of real professionalism. The good news is that our carpet cleaning services are affordable and customers-friendly. Therefore wait no longer and make an appointment.
There is no need to hesitate because our agency provides the most professional carpet cleaning in Paddington W2. To make an appointment with us, you will need to contact our call centre. There is always someone on the line to answer your questions or to book your service. Call us now and you will have your carpet as fresh and clean as it once was.
Affordable Carpet Cleaning
Are you willing to clean your carpets? Use our company for the very best results. We offer carpet cleaning services and we cover Paddington W2. Our expertise goes beyond regular cleaning. We can clean your carpet thoroughly, extracting dirt and debris from deep within, removing dry soil, killing bacteria and other contaminants and drying the fabric after the session is over. We understand the importance of keeping your carpets clean, as they are exposed to different contaminants daily, coming from your family and pets. You can maintain a dirt-free environment at home by cleaning your carpets every 6 to 12 months. The results are well worth the money. Give us a try.
Testimonials
Sarah Sullivan

I loved that your cleaners showed up exactly when scheduled and did the end of tenancy cleaning in no time. They were so efficient and thorough! I also loved that they wanted to know if I had any requirements they could meet before leaving.

Alisha Pearson

Your end of tenancy cleaning service was exceptional even though the price was very affordable. Your housekeepers did everything they could to deep clean the whole property to perfection. They are kind and friendly.

Niamh Bowen

It was a pleasure working with you! Your cleaners did a wonderful job cleaning the rented property and made sure that every nook and cranny was sparkling. Thanks to your end of tenancy cleaning service I got my deposit in full.

Jacob Russell

The experience with your cleaning company was so wonderful. I could not believe my eyes when I saw the outcome of your end of tenancy clean. The housekeepers were very hard-working and polite.

Alex Hobbs

Thank you for helping me put my end of tenancy cleaning obligations behind my back. I loved that your cleaners asked me if there was anything else they could do that might have been missed. I will highly recommend.

William Richardson

After using the curtain cleaning services provided by this company, our draperies and curtains look like new. The cleaners provided the necessary procedures that removed the dust, hairs, odours, smoke.

Laura Aaron

We have used the rug cleaning services provided by this company a few times and they were done very professionally. The cleaning technicians inspected our rug first and then did the necessary cleaning procedures.

Amanda Devon

We have used the curtain cleaning services provided by this company for removing the stains, dust, mildew and grime from our curtains, blinds and draperies. The cleaners applied different procedures on the different fabrics.