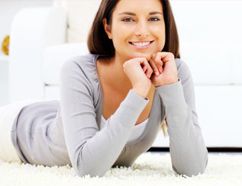 The burden of carpet cleaning is heavy and real. Many household in London rely on professional service's care to make their carpets clean once again. If you think about it, it is the surest, most certain way that you will receive a cleaning of a high quality based on your expectations and wishes.
Shiny Carpets London provides professional deep carpet/rug cleanings all over Tottenham. We are a long-time cleaning company with excellent scores. Our cleaning skills have been more than just helpful to thousands of customers who have chosen our company to clean their carpets.
All of Shiny Carpets London's cleaning technicians are trained specialists who will take excellent care of your carpets. They possess both the knowledge and skill to turn any cleaning into success- regardless of the size and shape of your carpets we will provide the most excellent, thorough cleaning service.
What does our carpet cleaning service include?
We move furniture and other unwanted objects that stands in our way.
We pre-treat any heavy stains, dirty marks and high-traffic areas.
We proper hoover the carpets to loose the dirt particles.
We make use of the hot water extraction method, also known as deep steaming, to extract grime and soil. It always gives amazing results.
Our cleaning procedures involve usage of environmentally friendly cleaning products and tools.
We operate advanced cleaning machines which extract up to 95 percent of the moisture.
We neutralise unpleasant odours.
We deodorise the already cleaned areas.
We can apply Scotchguard Carpet Protector upon request to prevent future staining.
"My carpets at home are probably one of the most valuable parts of the interior. They are handmade and priceless to me. However, I am afraid to damage their condition if I clean them on my own. This is the reason I use your professional carpet cleaning services and I am more than satisfied with the results!" – Kim
"I have two kids and they are big troublemakers. They often spill liquids on the carpets and leave dirty shoeprints all over them. With time, I found out, that I am not the best cleaner in the world, so I regularly call your company for the carpet cleaning service. The results are impressive, achieved by experienced professionals and I am more than happy to have you in my phonebook!" – Jessica
Let Shiny Carpets London clean your carpets/rugs and we promise to show you a whole new side of them.
The cleaning technicians that we have here working in Shiny Carpets London are the most diligent cleaners of all London. They have proven many times that any stain and dirt is removable if treated right. We know everything there is to know about carpet cleaning and the eliminating of harsh and stubborn stains.
By giving us the opportunity to clean your carpets you guarantee their clean, unharmed state. Undertaking this tremendous chore on your own does not promise the desired end results you are about to receive with us on board with the cleaning.
There is no point of cleaning the carpets yourself when the results you can achieve on your own are rather dissatisfying and incomplete. We, on the other hand, will bring all the necessary cleaning equipment (tools and machinery) required for a thorough carpet cleaning job. If need be, we will deep-clean your carpets using our special hot water/steam mounted cleaner and rinse the dirt out! It is extremely effective against deeply-embedded dirt and dust, also it helps weaken the structure of harsh, stubborn stains.
Our cleaning technicians know what type of cleaning will be most appropriate for your piece of carpet. There are carpets and rugs with sensitive fabric which require a more precise, careful treatment. The risk of our technicians ruining or jeopardizing the integrity of your carpets is practically zero.
All residents of Tottenham who experience struggles with cleaning their carpets can ensure their absolute and thorough cleanliness. All you have to do is give Shiny Carpets London a call and schedule the actual cleaning.
We will take care most preparations, you are not required to secure any cleaning tools or materials- simply point us towards the carpets' direction and we will make the best of their cleaning.
Frequently Asked Questions
When it would be safe to use my carpets again?
It really depends on various factors such as fabric type, cleaning method and humidity in the room. Sometimes it takes no more than several hours but often you might have to wait up to two whole days. To speed up the process, turn on your air conditioning or fan or at least open a window to turn the air around.
Generally, it is advisable to let your carpets dry completely before you thread on them or move the furniture back to its place. You want to reduce the traffic to a minimum to avoid contaminating your carpets again or leave indentation marks.
Why do I need professional carpet cleaning?
Your carpet doesn't just collect dry soil, stains and odors. It is the breeding ground of a whole variety of harmful microorganisms. To insure its presentable look and healthy condition, enlist the help of professional cleaners. For one thing they have the skills, knowledge and experience to face any carpet problem. Furthermore, professional cleaning providers use detergents and specialized equipment of superior quality to achieve incomparable results. Lastly, they offer a set of services for sterilization, disinfection, grooming and protection of your carpet. All of these factors secure the well-being of your decoration piece for much longer.
How often do I need to book professional carpet cleaning services?
You are recommended to have your carpet cleaned at least two times a year by a professional cleaning provider. Regular maintenance of your carpet is especially important in cases of asthma or allergies and when there are children or pets in the home. However, frequency vary depending on the individual case. If your carpet is placed in a room that you hardly ever use, then you don't need to put that much care. Otherwise, you might enlist the help of cleaning specialists as much as four to five times a year or even more if your carpet is in an accident prone environment.
If you are still wondering if it is worth to pay a relatively decent sum to have your carpets professionally cleaned. The answer is 'Yes'. If you have never had a carpet or a rug professionally cleaned you wouldn't know just how efficient it is against stubborn stains and deeply embedded dirt. To all of our potential customer in Tottenham we advise you to give Shiny Carpets London a chance- our long-time experience and effective skills will give your carpets a whole new outlook.
The benefits of having your carpets/rugs cleaned with us are plenty:
By scheduling with us you are guaranteed to receive the utmost best end results. Their completion consists of series of cleaning procedures which dissolve stains and dirt from inside the carpet.
The carpet cleaning chore won't be weighing on your head. Know that your carpets are taken care for by real cleaning professionals. No harm will be done on the carpets, because we never use threatening chemical influences that can not only damage the item, but affect you as well.
If you do decide to use our Shiny Carpets London's diligent skills, you will never think about cleaning the carpet by yourself, ever again. We do such a good and thorough job that the end results will be long imprinted on your mind.