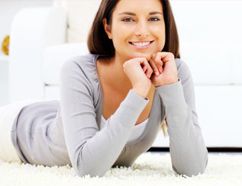 Who needs yoga mat when they have a beautiful sleek carpet to practise meditation on? People with dirty carpets do! Do you know that carpets can shelter various types of bacteria? If yoga is not a group activity for you, turn to us to get rid of the little creatures. Let Shiny Carpets London do its magic so your favorite decoration piece can grace your home once more!
We know it's so much more pleasant to stay in the comfort of your home to work on your relaxation technique than to go out for a yoga class. That's why we offer the residents of Hackney our carpet cleaning services. Choose us and practice mindfulness at home on a perfectly clean and bug-free carpet safe for your health! We'll be glad to take care of the well-being of both you and your carpet!
Our office representatives are available for contact though phone call or online absolutely every day of the week and on holidays too. We'll explain to you our cleaning philosophy and how we implement it in our daily job.
What does our carpet cleaning service include?
We move furniture and other unwanted objects that stands in our way.
We pre-treat any heavy stains, dirty marks and high-traffic areas.
We proper hoover the carpets to loose the dirt particles.
We make use of the hot water extraction method, also known as deep steaming, to extract grime and soil. It always gives amazing results.
Our cleaning procedures involve usage of environmentally friendly cleaning products and tools.
We operate advanced cleaning machines which extract up to 95 percent of the moisture.
We neutralise unpleasant odours.
We deodorise the already cleaned areas.
We can apply Scotchguard Carpet Protector upon request to prevent future staining.
[carpetprices]
"I am very excited about the cleaning that went down in my house last week. I had two of my carpets cleaned using your service and I must say that I did not expect such thorough, impeccable end results. The old stains are gone and forgotten, the carpets are replenished and cleaner than ever! – Jasmin"
"For years we have been cleaning the carpets at home ourselves, but never with much success. It wasn't until I called on your carpet cleaning service and had my carpets cleaned to perfection. Everything went really smoothly and I will definitely consider calling on you again! – Jane"
The cleaning system we created many years ago when we established our company in Hackney is well-known thoughout the community and we're proud to say that it has managed to win us the respect and trust of our customers.
In all our actions we strive to give personal attention and meet the expectations of each one of you who request our services. We would hate nothing more than to disappoint you with anything at all. That's why we welcome your questions and requirements so you can receive just the service you expect.
Here's what we can offer to make sure of that:
Anti-allergen solutions
We'll run a pre-tretment inspection of your carpet to establish the problem areas and decide on the right cleanign method. Depending on the type of carpet we have various cleaning chemicals all of which are guaranteed by a helath inspection to be safe for your health. We'll make sure your carpet is properly washed without any detergent residues, rinsed and completely dry before it comes back to you. We use special brand of spot cleaner to tackle the most stubborn stain resisting treatment and we have a line of disinfectant products to expel any harmful micoorganisms.
High-tech machinery
When you chooose us, you choose a cleanign crew of well-trained professionals who know how and when to use our different types of specialized equipment. They will hoover, treat any high-traffic area and dirty patch with a steamer and groom your carpet to return it to you as good as new.
Protective spray
Our work is not nearly done if we haven't thought about the future of your carpet. We'd love to see you again but your carpet will wear off pretty quickly if treated too often with powerful chemicals. To secure its good look, we'll put a protective coating that wil act as a shield against dirt and make the next cleaning easier.
Don't hesitate to ask for our help if you need assistance with moving the furniture. We would come at a time of your convenience anywhere in Hackney to pick up your carpet in the most careful way possible using protective material in order not to damage your property.
Frequently Asked Questions
When it would be safe to use my carpets again?
It really depends on various factors such as fabric type, cleaning method and humidity in the room. Sometimes it takes no more than several hours but often you might have to wait up to two whole days. To speed up the process, turn on your air conditioning or fan or at least open a window to turn the air around.
Generally, it is advisable to let your carpets dry completely before you thread on them or move the furniture back to its place. You want to reduce the traffic to a minimum to avoid contaminating your carpets again or leave indentation marks.
Why do I need professional carpet cleaning?
Your carpet doesn't just collect dry soil, stains and odors. It is the breeding ground of a whole variety of harmful microorganisms. To insure its presentable look and healthy condition, enlist the help of professional cleaners. For one thing they have the skills, knowledge and experience to face any carpet problem. Furthermore, professional cleaning providers use detergents and specialized equipment of superior quality to achieve incomparable results. Lastly, they offer a set of services for sterilization, disinfection, grooming and protection of your carpet. All of these factors secure the well-being of your decoration piece for much longer.
How often do I need to book professional carpet cleaning services?
You are recommended to have your carpet cleaned at least two times a year by a professional cleaning provider. Regular maintenance of your carpet is especially important in cases of asthma or allergies and when there are children or pets in the home. However, frequency vary depending on the individual case. If your carpet is placed in a room that you hardly ever use, then you don't need to put that much care. Otherwise, you might enlist the help of cleaning specialists as much as four to five times a year or even more if your carpet is in an accident prone environment.
Furthermore, we'll give our best to remove the indentation marks from the furniture in the process of treatment. You'll receive your carpet back completely sanitized, disinfected, deodorized and protected not long after you've booked our services. With our fast drying time we can easily assure you of that.
We'd be happy to hear from you and talk about our special promotions. Give us a call to receive a free estimation of a possible cleaning plan. We promise we'll come up with a package of services that won't cost you more than you can afford. It's more likely that our reasonable prices will be just another incentive to make your mind to take advantage of our reputable services.