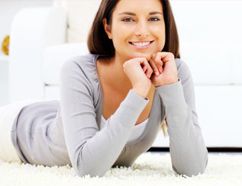 Shiny Carpets is a professional cleaning company, which offers highly effective and accessible carpet cleaning in Vauxhall SW8. Call us now and book our cleaning service.
To restore the fresh and nice appearance of your carpets, you can count on the professional carpet cleaning that our company can perform for you. We are very experienced and we are qualified enough to perform professional cleaning of your carpets in the fastest possible way. Do not hurry up to throw away your old carpets. Instead, contact us in Vauxhall SW8 and try another alternative. We co operate with a disciplined team of carpet technicians who are equipped with the most modern cleaning products and machines. We work with all types of carpets, no matter of their size. We can clean all of them because we use special and innovative approaches. Benefit from our exclusive offers and friendly attitude. We are available to make appointments with our customers 7days per week. If you do not want to spend hours in trying to clean perfectly all of your carpets, turn to our team of carpet technicians. We will come as soon as possible to take the carpets and to provide the cleaning that is required.


Carpet Price

Prices

Livingroom Carpet

from £25
* Carpet Minimum call out charge £48
I don't like spending time on cleaning my carpet. Your company does such a great job that I don't even have to think about it.
Phil
All carpets and rugs at home are brilliant and their colours are fresh and bright because of your perfect maintenance.
Jenny
Excellent carpet cleaning
Our carpet cleaning is excellent – we are very devoted to the working process and we use diverse procedures to extract the pollutants in the best way. We are very responsible and punctual in our appointments and we promise not to betray your trust. Even the nasty stains will be removed in an excellent way and we can guarantee that we won't damage your favourite carpets.
You can book our carpet cleaning in Vauxhall SW8 and you will have the chance to benefit from the following things:
Excellent dry cleaning
Removing of old and nasty stains
Dealing with unpleasant smells
Innovative cleaning methods
Non toxic cleaning equipment
Skilled and competent team of cleaners
Do not hesitate to contact us whenever you need our professional carpet cleaning. We are very comprehensive and we will take into account your preferences. We can even handle with the unpleasant smells on your carpets, because we use special deodorizers.
Thanks to the dry cleaning performed by our carpet technicians all the pollutants are extracted in an effective way. Do not miss the most reasonable prices for the carpet cleaning in Vauxhall SW8 – we are sure that you will be pleased with the final results. To learn more, you can use our customer support centres. Our polite staff will be glad to respond to all of your questions.
Brixton
Chelsea
Clapham
Fulham
Carpet Cleaners Vauxhall SW8
A new carpet feels great but after a period of time it becomes worn out. The best way to freshen it up is to use our carpet cleaning services. We extract soil and debris from carpets through several procedures and at the end of the cleaning we also deodorise the fabric. We are very professional, very experienced and fully acquainted with this service. Our company was created several years ago and since then we have served Vauxhall SW8. It is our job to sanitise and revive carpets, no matter how old they are. Feel free to join our company and try our carpet cleaning services any time.
Testimonials
Sarah Sullivan

I loved that your cleaners showed up exactly when scheduled and did the end of tenancy cleaning in no time. They were so efficient and thorough! I also loved that they wanted to know if I had any requirements they could meet before leaving.

Alisha Pearson

Your end of tenancy cleaning service was exceptional even though the price was very affordable. Your housekeepers did everything they could to deep clean the whole property to perfection. They are kind and friendly.

Niamh Bowen

It was a pleasure working with you! Your cleaners did a wonderful job cleaning the rented property and made sure that every nook and cranny was sparkling. Thanks to your end of tenancy cleaning service I got my deposit in full.

Jacob Russell

The experience with your cleaning company was so wonderful. I could not believe my eyes when I saw the outcome of your end of tenancy clean. The housekeepers were very hard-working and polite.

Alex Hobbs

Thank you for helping me put my end of tenancy cleaning obligations behind my back. I loved that your cleaners asked me if there was anything else they could do that might have been missed. I will highly recommend.

William Richardson

After using the curtain cleaning services provided by this company, our draperies and curtains look like new. The cleaners provided the necessary procedures that removed the dust, hairs, odours, smoke.

Laura Aaron

We have used the rug cleaning services provided by this company a few times and they were done very professionally. The cleaning technicians inspected our rug first and then did the necessary cleaning procedures.

Amanda Devon

We have used the curtain cleaning services provided by this company for removing the stains, dust, mildew and grime from our curtains, blinds and draperies. The cleaners applied different procedures on the different fabrics.