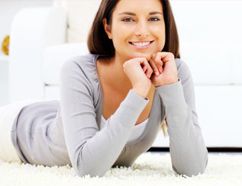 The mission of Shiny Carpets London is to help people from Muswell Hill live healthier lives and this we believe starts with healthy and well-maintained carpets. Our hot water extraction method penetrates deep into the fibres of the carpet and eradicates most of the bacteria, allergens, germs, grime, fungi, microorganisms and many more impurities which are harmful to our health.
Who does not want a clean and hygienic home for the members of their family? Why don't you let our company help you get your carpets, rugs or upholstery looking amazing again? We know that you want to be sure that your home is bacteria and grime free at all times.
What does our carpet cleaning service include?
We move furniture and other unwanted objects that stands in our way.
We pre-treat any heavy stains, dirty marks and high-traffic areas.
We proper hoover the carpets to loose the dirt particles.
We make use of the hot water extraction method, also known as deep steaming, to extract grime and soil. It always gives amazing results.
Our cleaning procedures involve usage of environmentally friendly cleaning products and tools.
We operate advanced cleaning machines which extract up to 95 percent of the moisture.
We neutralise unpleasant odours.
We deodorise the already cleaned areas.
We can apply Scotchguard Carpet Protector upon request to prevent future staining.
This is why Shiny Carpets London has worked out strategies and solutions which not only deep clean carpets but do it in a safer and more natural way. Our detergents and equipment are not only able to provide you with the desired levels of cleanliness but they contain none of the toxic components which are detrimental to your health.

* Carpet Minimum call out charge £48
"I live alone and cleaning is definitely not my thing. I use your professional cleaning services every now and then to make sure my flat is perfectly clean. The last time I called you, was to book a carpet cleaning service and I was impressed with the results. You somehow always surprise me in the very positive way! Expect my next call!" – John
"The four cats at home are loved members of our big family. However, you can imagine how dirty my carpets can get. I call at your company for a carpet cleaning service every few months, because I want to provide the best care for them, even though I personally can't. Your professionals remove stains, pet hair and any kind of dirt from my carpets. I will definitely keep using your professional services!" – Laura
We have been providing customers from the area with exceptional carpet cleaning services for several years now and ever since our establishment we make people happy with the outcome provided. What is even more, we do not stop at carpets only! We are ready to deal with your rugs and upholstered furniture, too!
stubborn stains removal
faster drying time
super advanced cleaning technology
properly trained and experienced cleaners
full satisfaction guaranteed
many years of experience in the carpet cleaning field
Who we are and what we do
Our company has been in the cleaning business for plenty of years and it is a favourite choice for hundreds of customers from the area of Muswell Hill. For so many years, we have been on the throne that we are not planning on vacating it. We have always strived to provide the safest cleaning procedures for you and your family.
Throughout all these years, we have been utilising the hot water extraction system which helps us clean grime, stains and bad odours from all types of carpets with one blow.
Why choose us
While there are too many reasons why our company is a far cry from the rest in Muswell Hill, we think that delivering efficient and eco procedures is the main one. Our powerful machines extract up to 95 percent of the moisture of your carpets which means that you do not have to worry about build up of mould or fungi which will lead to safer and healthier environment, too.
Another thing which makes our company so respected and reliable is the cleaning team we collaborate with. We work with fully trained professional cleaners who know what is necessary to remove even the most stubborn stains from your carpets and restore them to their pristine condition.
Frequently Asked Questions
When it would be safe to use my carpets again?
It really depends on various factors such as fabric type, cleaning method and humidity in the room. Sometimes it takes no more than several hours but often you might have to wait up to two whole days. To speed up the process, turn on your air conditioning or fan or at least open a window to turn the air around.
Generally, it is advisable to let your carpets dry completely before you thread on them or move the furniture back to its place. You want to reduce the traffic to a minimum to avoid contaminating your carpets again or leave indentation marks.
Why do I need professional carpet cleaning?
Your carpet doesn't just collect dry soil, stains and odors. It is the breeding ground of a whole variety of harmful microorganisms. To insure its presentable look and healthy condition, enlist the help of professional cleaners. For one thing they have the skills, knowledge and experience to face any carpet problem. Furthermore, professional cleaning providers use detergents and specialized equipment of superior quality to achieve incomparable results. Lastly, they offer a set of services for sterilization, disinfection, grooming and protection of your carpet. All of these factors secure the well-being of your decoration piece for much longer.
How often do I need to book professional carpet cleaning services?
You are recommended to have your carpet cleaned at least two times a year by a professional cleaning provider. Regular maintenance of your carpet is especially important in cases of asthma or allergies and when there are children or pets in the home. However, frequency vary depending on the individual case. If your carpet is placed in a room that you hardly ever use, then you don't need to put that much care. Otherwise, you might enlist the help of cleaning specialists as much as four to five times a year or even more if your carpet is in an accident prone environment.
We are also willing to provide methods which ensure that no stains will return. No matter what type of cleaning problem your carpet have, we can deal with it.
What we offer you is not to sit there and look at that pesky stain. Instead, get in touch with us as soon as possible and let our cleaners help you as much as they can. You can reach us at the most convenient time and day for you as we are operating from Monday to Sunday. We even offer bank holiday appointments for which we do not overcharge.
Another thing you should know about us that all the cleaning equipment is included in the total sum of the service and we will not make you pay a penny more than the declared price.