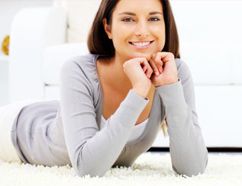 If you are looking for the best way to take care of your carpets, but you don't have the time, you can make the best choice by contacting Shiny Carpets London. We are in the cleaning area of business in London and we are available for all of you, residents of Kilburn! We offer the most tempting offer of our carpet cleaning service, and you better take advantage of our hot prices!
We hold the key to clean your carpet perfectly and show how we, professionals do it. Perhaps you are not aware of the fact that a carpet should be cleaned at least two times every year to preserve it in its best condition.
A lot of dust, dirty particles and stains accumulate on its surface in a long-term period, so you have to give your best at cleaning everything right. However, if you don't have the time to engage in this activity, you can use your phone to dial our number and call us to book the carpet cleaning service!
What does our carpet cleaning service include?
We move furniture and other unwanted objects that stands in our way.
We pre-treat any heavy stains, dirty marks and high-traffic areas.
We proper hoover the carpets to loose the dirt particles.
We make use of the hot water extraction method, also known as deep steaming, to extract grime and soil. It always gives amazing results.
Our cleaning procedures involve usage of environmentally friendly cleaning products and tools.
We operate advanced cleaning machines which extract up to 95 percent of the moisture.
We neutralise unpleasant odours.
We deodorise the already cleaned areas.
We can apply Scotchguard Carpet Protector upon request to prevent future staining.

* Carpet Minimum call out charge £48
"Wow, what a service! This was the first time I booked professional carpet cleaning services and I have to admit that I did not expect much. But the cleaners amazed me! They helped me so much. The price was also extremely affordable. I will definitely book this service again.- Adam"
"I am forever grateful to your company and your carpet cleaning services. The cleaners who came to my home did a spectacular performance. They managed to clean an old red wine stain! Can you believe it? Do not hesitate to book them, they are the best company in the region.- Liam"
We are a very considerate of your needs company. We know that you have busy schedules and you have better things to do in Kilburn than cleaning. This is why you can put your carpet in our experienced hands and wait to see the positively surprising results!
Thanks to our steam and dry cleaning methods, we are able to remove stains from your carpets and free them of dust and dirt. The best part is that we use a protective spray layer, which hinders the process of the return of the dirty intruders. Shiny Carpets London is properly armed to win the battle of cleaning every carpet quick and painfully.
The first weapon in our arsenal is our big professional cleaning family. The members of all of our cleaning teams are experienced in cleaning anything, including carpets. They don't hold back when providing our customers with this service, because they strive to make them smile when they see the perfect results.
Frequently Asked Questions
When it would be safe to use my carpets again?
It really depends on various factors such as fabric type, cleaning method and humidity in the room. Sometimes it takes no more than several hours but often you might have to wait up to two whole days. To speed up the process, turn on your air conditioning or fan or at least open a window to turn the air around.
Generally, it is advisable to let your carpets dry completely before you thread on them or move the furniture back to its place. You want to reduce the traffic to a minimum to avoid contaminating your carpets again or leave indentation marks.
Why do I need professional carpet cleaning?
Your carpet doesn't just collect dry soil, stains and odors. It is the breeding ground of a whole variety of harmful microorganisms. To insure its presentable look and healthy condition, enlist the help of professional cleaners. For one thing they have the skills, knowledge and experience to face any carpet problem. Furthermore, professional cleaning providers use detergents and specialized equipment of superior quality to achieve incomparable results. Lastly, they offer a set of services for sterilization, disinfection, grooming and protection of your carpet. All of these factors secure the well-being of your decoration piece for much longer.
How often do I need to book professional carpet cleaning services?
You are recommended to have your carpet cleaned at least two times a year by a professional cleaning provider. Regular maintenance of your carpet is especially important in cases of asthma or allergies and when there are children or pets in the home. However, frequency vary depending on the individual case. If your carpet is placed in a room that you hardly ever use, then you don't need to put that much care. Otherwise, you might enlist the help of cleaning specialists as much as four to five times a year or even more if your carpet is in an accident prone environment.
Our strongest weapon in the battle is our arsenal of cleaning products and detergents. They are absolutely chemicals free, they are not composed of toxins, and are positively environmentally-friendly! We know that some people are allergic to some substances or experience troubles when inhaling them, therefore, we don't use items that can cause any health problems to our customers.
Another priceless weapon is the use of up-to-date machinery that are accustomed to carpet cleaning. We can extract up to 95% of the moisture in your carpet and there really is a difference!
All of our methods and techniques are proven in time. We have years of experience in our cleaning history and contacting us is the best option you have! You don't need to worry about your valuable possessions because our carpet cleaning service only provides good care for your carpets. It will in no way change the colors or damage the condition of your carpets!
Shiny Carpets London loves its clients and makes sure their needs are always satisfied. We want to help as many people as possible, so we offer our services on the weekends, too. The booking is very easy and fast. You connect to our team at customer support, they book you a service and are willing to answer the questions you might ask them. All of our employees are very polite and will readily help you anyway they can.
Book the service when you find it convenient for you and our professional cleaners will be at your doorstep in time. After a little while you will be surprised by the difference the service makes. The carpets are visibly cleaner, there is no sign of dust and the condition is not damaged at all!
Our prices are affordable and really low. The carpet cleaning service of ours is the best option you can make and you will not be dealing with this boring activity!
You can contact us and start the ball rolling towards us. We definitely have what it takes to make you smile and you probably will seek our professional cleaning services in the future. A lot of our clients in Kilburn call us on a regular basis, and we are very happy that we have mutual agreement, respect and benefit from each other. Don't waste time, but call us now and become one happy customer of ours!