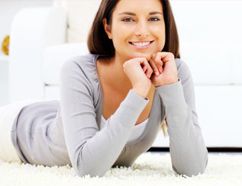 Do you believe that a clean and fresh carpet adds to the beautiful look of any home? Do you know that if not properly and regularly cleaned, a carpet can become a favourable habitat for tons of bacteria, dust mites, microorganisms, fungi, mould and many more pollutants which are detrimental to your health?
We do not want you to put your family's health and yours in danger. We do think that one's health is incredibly important. For this reason, everybody needs to make sure that his or her carpets are well-maintained.
With our professional assistance, you do not have to feel worried any longer. All you need to do is to contact our company and entrust your carpets to our hands. We promise you to take the best care of them while you enjoy your free time.
What does our carpet cleaning service include?
We move furniture and other unwanted objects that stands in our way.
We pre-treat any heavy stains, dirty marks and high-traffic areas.
We proper hoover the carpets to loose the dirt particles.
We make use of the hot water extraction method, also known as deep steaming, to extract grime and soil. It always gives amazing results.
Our cleaning procedures involve usage of environmentally friendly cleaning products and tools.
We operate advanced cleaning machines which extract up to 95 percent of the moisture.
We neutralise unpleasant odours.
We deodorise the already cleaned areas.
We can apply Scotchguard Carpet Protector upon request to prevent future staining.

* Carpet Minimum call out charge £48
"My girlfriend and I live alone in a spacious flat. We are very busy with our careers, so we don't quite have the time to clean at home. We trust your professional cleaning company for the best services! We will soon call you for a carpet cleaning, we haven't used it yet, but we are absolutely sure you will work your magic with our carpets, like you do with every cleaning task!" – Carter
"I decorated my flat on my own and chose expensive carpets for every room. I wouldn't clean them myself and I carefully searched for the best carpet cleaning service. It turned out it was yours! My carpets always look perfect after you clean them and their condition is definitely bettered with every service delivered! Expect my next call!" – Natalie
What makes our professional cleaning company so unique is the usage of a highly-advanced deep steam machine and its hot water extraction system. Thanks to it, it is a lot easier to fight various stains, spillages, bacteria and other pollutants.
We believe in our powers and we can assure you that we will restore your carpet to its former glory. For an extremely low rate, we will prolong your carpets' lifespan up to several years. However, you still need to book professional carpet cleaning service twice a year.
Many people think that their carpets are clean just because they appear to be such. We feel sorry to inform you that your carpets are not even close to being clean and fresh. Studies show that carpets are some of the dirtiest areas in our homes, along with the toilet seat.
Frequently Asked Questions
When it would be safe to use my carpets again?
It really depends on various factors such as fabric type, cleaning method and humidity in the room. Sometimes it takes no more than several hours but often you might have to wait up to two whole days. To speed up the process, turn on your air conditioning or fan or at least open a window to turn the air around.
Generally, it is advisable to let your carpets dry completely before you thread on them or move the furniture back to its place. You want to reduce the traffic to a minimum to avoid contaminating your carpets again or leave indentation marks.
Why do I need professional carpet cleaning?
Your carpet doesn't just collect dry soil, stains and odors. It is the breeding ground of a whole variety of harmful microorganisms. To insure its presentable look and healthy condition, enlist the help of professional cleaners. For one thing they have the skills, knowledge and experience to face any carpet problem. Furthermore, professional cleaning providers use detergents and specialized equipment of superior quality to achieve incomparable results. Lastly, they offer a set of services for sterilization, disinfection, grooming and protection of your carpet. All of these factors secure the well-being of your decoration piece for much longer.
How often do I need to book professional carpet cleaning services?
You are recommended to have your carpet cleaned at least two times a year by a professional cleaning provider. Regular maintenance of your carpet is especially important in cases of asthma or allergies and when there are children or pets in the home. However, frequency vary depending on the individual case. If your carpet is placed in a room that you hardly ever use, then you don't need to put that much care. Otherwise, you might enlist the help of cleaning specialists as much as four to five times a year or even more if your carpet is in an accident prone environment.
We know that this information is not so comforting but this is our way to show you how important it is to keep your carpets grime-free and healthy. Besides, do you know that dirty carpets may be the major reason why you develop respiratory problems or even asthma? Well, the situation is more serious than you thought.
What we advise you is to keep vacuuming on a regular basis but not only. Establish a contact with our company and book our carpet cleaning services because a vacuum cleaner cannot extract all of the threatening impurities. We are based in the area of Camden Town and we are already looking forward to providing you with an exceptional outcome for your carpets. Once we are done cleaning, we are sure that you will be nothing less than satisfied.
Being on the throne for so many years have earned us a stellar reputation. Hundreds of customers from Camden Town turn to us to help them restore their worn-out and stained carpets. Let us prove you that we are second to none because:
We place enormous importance on the mutual trust and this is why our terms and conditions are absolutely transparent.
The fee you will be charged for booking our carpet cleaning service is extremely affordable.
We utilise specialised cleaning equipment which is classified as green and safe. Plus, we bring it ourselves and you will not be overcharged a penny more.
We are ready to send as many technicians as necessary for a satisfying outcome. To put your mind at ease, each cleaner has undergone training courses which enable him or her to distinguish different carpet textures and materials, and then apply the most powerful treatment.
We are available in the entire area of Camden Town and we even offer weekends appointments without you having to pay more than the declared price.
We can make your carpets as clean as a brand new.
If you intrigued by our offer, we are looking forward to hearing from you.